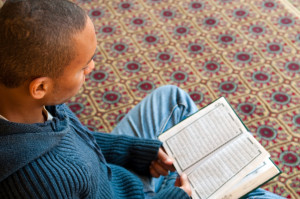 Alḥamdulillāh. I praise Allah and thank Him infinitely. I send peace and blessings upon whom the Qur'an was honourably descended down to, Sayyidina Muḥammad, his household, his companions, all lovers of the Qur'an and all those who follow his guided path till the day of judgement.
Allow me to present to you the beginning of a humble project. It's the TVQ.Academy project. TVQ.Academy stands from Taysir Virtual Qur'an Academy.
With the advancement of technology, TVQ.Academy is determined to bringing the Qur'an closer to every Muslim, in a more practical way, using contemporary methods and tools in teaching and learning. With the emergence of TVQ.Academy, you can now learn the Qur'an on the go, and at your own convenience, using your WhatsApp, FaceTime, Skype or Google Hangout. Also, a learning management system (LMS) (iquran.tvq.academy) has been built to enable registered students check their progress and join discussions with fellow Qur'an lovers.
With that, TVQ.Academy aims to raise your confidence in the Qur'an, and ensure you don't leave us unless you are more passionate about the Qur'an. It also aims to reach with you to memorizing the entire Qur'an inshā Allāh. As you know; the companions of the Qur'an are the special people of Allah.
For a start, we are introducing two courses, which are prerequisite for anyone who wants to study the Qur'an in-depth. This includes an open-ended Qur'an recitation and an open-ended Qur'an memorization courses.
Both programmes will take you through a step-by-step Qur'an learning with the correct pronunciation of the words (and letters) of the Qur'an and the proper application of the rules of Tajwīd. TVQ.Academy will assign only qualified Qur'an teachers to help you and your kids. All you have to do is to develop the willingness to transform your life to a Qur'anic. You also need to have a WhatsApp (or its alternative) on your phone (which you likely have already). You will also need to have access to FaceTime, Skype or Google Hangout. Above all that, you have to have a purified intention to do it for Him. Once you provide us with that, we'll take care of the rest, inshā Allāh.
TVQ.Academy's Concept of Online Learning
The idea emerged as some friends approached the founder of TVQ.Academy, asking him to teach them the Qur'an. Most of the time, he has to sadly apologize, as he's either busy at work or studies. Upon reflection, he realized that, he could help and attend to such requests by utilizing the convenience of our time; the Internet and Social Networking Sites (SNS). With the existence of these technologies, he'll be able to spare each of them 30 minutes of his free time, and also save them travelling time. More so, he'll be able to help others at distance locations (overseas). Therefore, online learning with more convenient options is the solution.
At TVQ.Academy, we adopt new methods and modern mobile technologies to help you grasp the Qur'an whether you are busy at work, school, home (for homemakers) or on the go.
Targeted Audience
Our targeted audience at TVQ.Academy is anyone who:
Wants to learn to recite or memorize the Qur'an.
Is able to recognize the Arabic alphabets and the words of the Qur'an.
Has access to WhatsApp (or its alternative) and has access to FaceTime, Skyp or Google Hangout.
Courses
At the moment, TVQ.Academy is set to offer open-ended lessons in Qur'an recitation and Qur'an memorization.
Open-ended Quran Recitation
Open-ened Qur'an Memorization
Features of Our Programmes
Online Based
Free Registration.
3 Days Free Trial.
No long term contracts (month-to-month payment).
Very Affordable
FREE Courses (for those who can't afford to pay).
Convenient; Anytime, Anywhere
Flexible Timings
Time saving
The Methods of Learning the Qur'an with TVQ.Academy
The instructor will tell you where to start, which is usually you'll start to learn to master al-Fatihah. Thereafter, you'll learn Juz' 'Amma (the last Juz' in the Qur'an), start from the last chapter, gradually up.
You'll first recite Surah al-Fatihah and sent it to the instructor via WhatsApp. You can do that right away from your WhatsApp voice messaging.
After he listens to it, he'll give you a feedback on what to improve. He'll then ask you to practise them and re-record your recitation and resend it to him. This process will continue until you master al-Fatihah (or any chapter/verses/pages).
After finishing every 5 pages through the WhatsApp practices, you'll have to recite all the 5 pages in front of the instructor. A Skype, FaceTime or HangOut telephony will be needed.
Then, you'll continue with the next 5 pages as you did with the previous.
After completing every Juz' (Juz' Amma in this case) you'll be tested in the entire Juz' (this means all your previous recitations if you have already gone through more than one Juz'). This ensures to keep you close to your Qur'an.
This is how the idea of TVQ.Academy emerged. As it's still an infant project, we look forward to strengthen it, with the valuable input, suggestions and feedback of Qur'an lovers out there. Thus, please don't hesitate to drop us your ideas and suggestion at info[at]tvq.academy. May Allah reward you abundantly for that.
Thank you. Wassalam.
Allahu Hafiz


Abdul-Salam Abdul-Hameed
TVQ.Academy