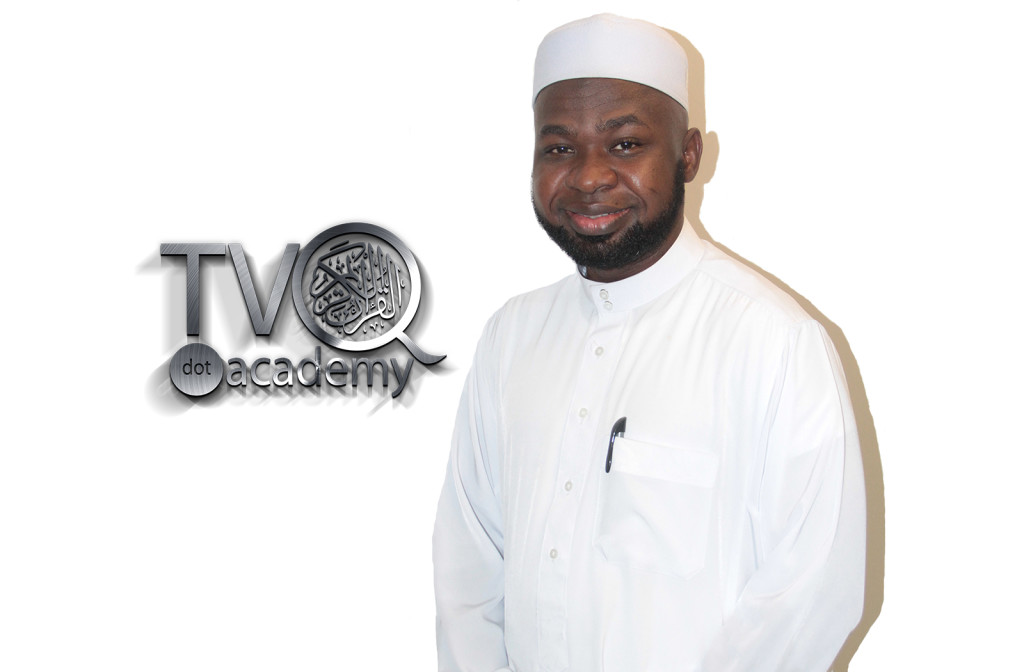 Alhamdulillah. All praise and thanks are due to the Almighty Allah. May His peace and blessings be upon the Master of creation, the teacher of the Qur'an, Ḥabībī Muḥammad, his household, his companions and all those who follow his guided path till the Day of Judgment.
Taysir Virtual Qur'an Academy (TVQ.Academy) is an initiative founded by Abdul-Salam Abdul-Hameed. It provides a platform that aims to reach every Muslim, using his communication tools at hand, to keep him engaged with the Qur'an. This develops a good attachment between the individual Muslim and the Qur'an, eases the memorization of the Qur'an for him, and keeps him close to the Creator, inshā Allāh.
In his journey of seeking knowledge, Abdul-Salam, born in Ghana, has travelled to Tunisia, Syria and Malaysia. In Tunisia to completed his Qur'an memorization at Umar Ibn Al-Khattab Qur'anic School. In Syria, he attained his B.A. Degree in Arabic Language and Islamic Studies, from the Islamic Call College (كلية الدعوة الإسلامية) in Shaikh Ahmad Kuftaro Complex (Abu Nour). Also in Damascus, he was honoured with 'Sanad' (linkage) to the Prophet ṣallā Allāhu 'alaihi wa sallam, when he successfully, separately, read the entire Qur'an (khatmah) before Shaikh Maher Al-Munajjid and Shaikh Muhammad Al-Kull (Riwayah of Hafs), both of whom were certified and given Ijazah by the late Shaikh Muhammad Ṭāhā Sukkar. In 2012, he was offered to take his Master's Degree at the International Islamic University Malaysia (IIUM), where attained a Master of Education (MeD) with specialization in Educational Technology degree.
In 1999, Abdul-Salam was the first foreigner to win the first place in the Annual National Qur'an Competition of Tunisia. He also won the first prize in the Qur'an Memorization Competition organized by Shaikh Ahmad Kuftaro Complex, Damascus, Syria in 2001. In the year 2002 he represented Ghana in the King Abdul-Aziz International Qur'an Competition, Makkah, Saudi Arabia.
Abdul-Salam had been a part-time Qur'an teacher to Arab and non-Arab students at the Shaikh Ahmad Kuftaro Complex in the period between 2002 and 2004.
In 2006, Abdul-Salam moved to Singapore and was offered to join Madrasah Wak Tanjong Al-Islamiah as an Arabic Language Specialist where he taught Secondary and Pre-University levels. After two and a half years, he moved to Madrasah Al-Irsyad Al-Islamiah where he taught Arabic Language and Qur'an; and developed resources for the Arabic Language. He left Madrasah Al-Irsyad in October 2011.
Abdul-Salam volunteered in the Sekolah Ugama Radin Mas (SURM), which is one of the educational branches of the Religious & Educational League of Radin Mas (BAPA). Tahfeez (memorizing the Qur'an) is the core curriculum of SURM. At SURM, he relooked into the Tahfīz Programme in the school and proposed suggestions that helped to enhance the programme.
In his effort to spreading Islam (da'wah), Abdul-Salam writes and blogs on GSalam.Net.
Abdul-Salam can be contacted at the following means:
Email: salam[at]gsalam.net
Website: www.GSalam.Net
Facebook: GSalamWriter
Allahu Hafiz 🙂